Bitcoin – Where Do I Start?
Bitcoin can be simple or incredibly complex, depending on how far down the rabbit hole you want to go. The main goal of this website is to direct you to great information and great Bitcoin content creators, and in doing so, help you avoid poor practice and scammers.
Regardless of whether you are an avid reader, love a good podcast, are technically minded, want to know all the stats or just want to shit-post on Bitcoin Twitter I'll try to point you in the right direction.
Books
Podcasts
For me, this is where the real gold happens. Podcasts have transformed the way I consume media, and can allow you to exponentially increase your knowledge at the same time as going for a walk, washing the dishes or even – for some people – while they earn a living. Here's a few of the best, with links to those involved. Please support them with a like or a share when you value what they're doing. It goes a long way to driving hyperbitcoinisation, which is a good thing for all Bitcoiners.
Stats
To look at the entire Bitcoin economy at a glance, check out Clark Moody Bitcoin. It's got everything from the latest price, current hash rate, Lightning Network capacity, transaction fees etc. Click each item for a basic explanation. Also, shoot Clark a follow on Twitter.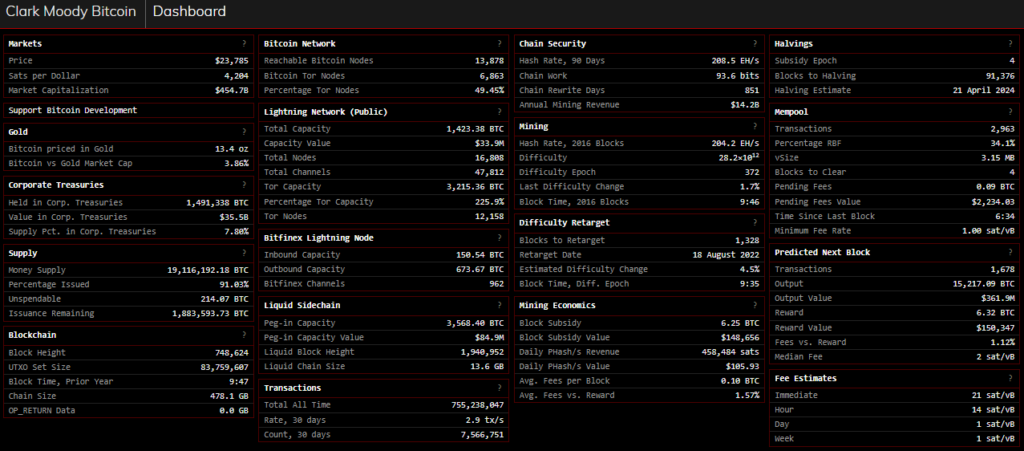 Hot on Clark's heels is Bitbo. A real-time Bitcoin dashboard that allows anyone to monitor on-chain data, view live price action, and track key economic indicators – all for free. Marc Chouinard and Christopher Gimmer are the brains behind this one. Multi fiat currency conversions are now available (thank you!).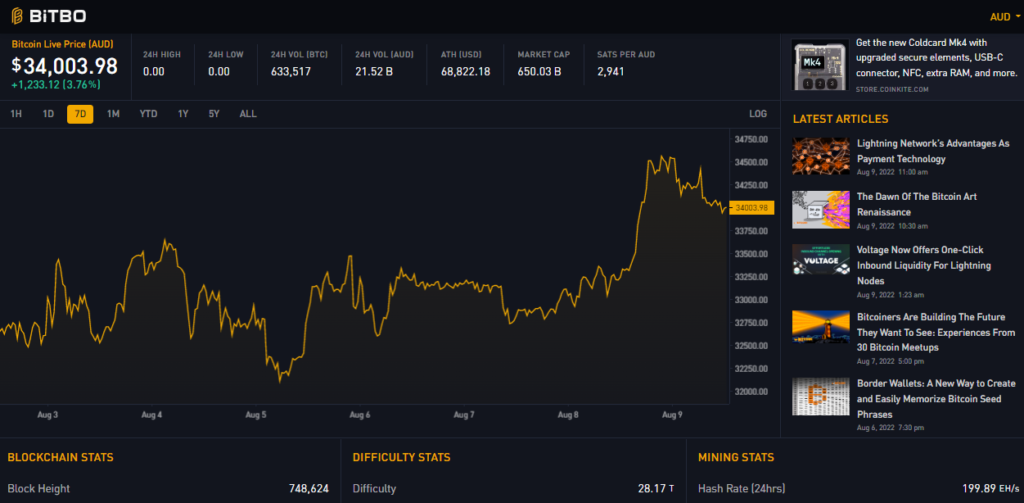 Once you level-up on your Bitcoin knowledge, check out Mempool. Brought to you by softsimon and wiz, The mempool open-source project is a high quality explorer and visualization website for the entire Bitcoin ecosystem, without distractions like altcoins, advertising, or third-party trackers.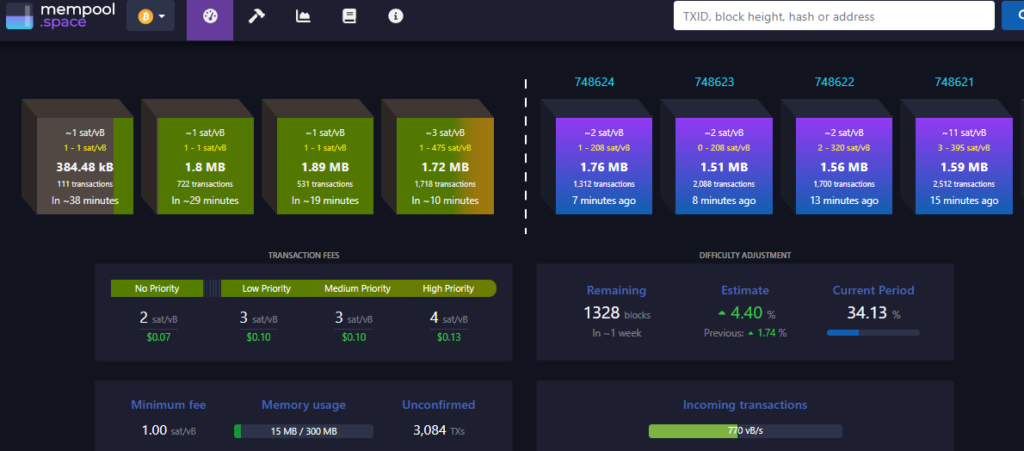 One of the most visually appealing resources (that would look great alongside a BlockClock) is Bitfeed. Bitfeed – by mononaut – provides an informative and hypnotic display of the Bitcoin transactions that make up each block.
Last but not least is Priced In Bitcoin. It denominates various assets in Bitcoin, including precious metals such as Gold and Silver, public companies such as Apple and Tesla, ETFs (Exchange Traded Funds) and Corporate Bond ETFs. Priced In Bitcoin will clearly show you just how well Bitcoin has performed against all other assets over the last 5 years, and demonstrates the asymmetric opportunity that Bitcoin offers you.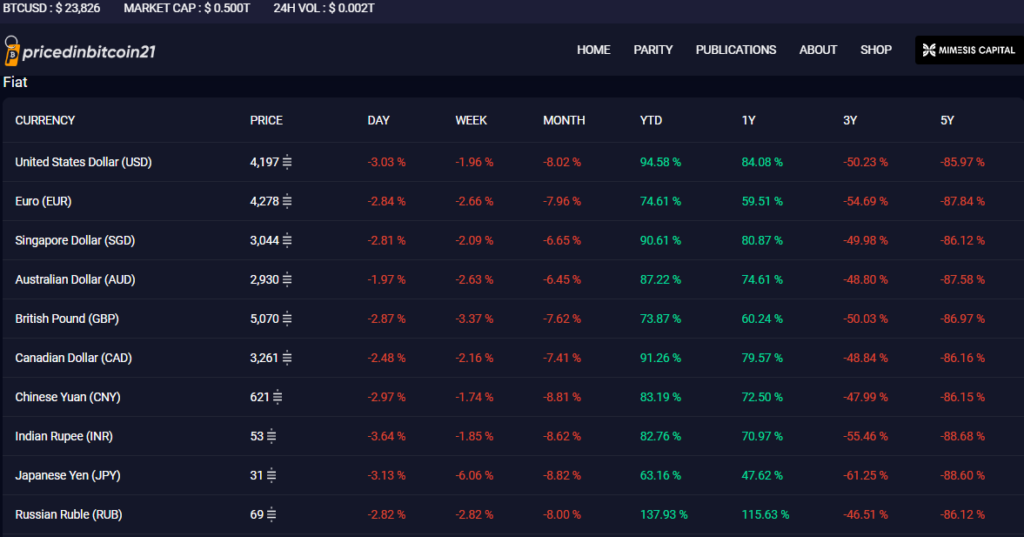 Articles
I find the mainstream media boring. Everyone has an agenda, whether that be a newspapers political leaning or a TV stations reliance on their advertisers. I try where possible to read articles by independent journalists, writers and bloggers. Although all will have their own personal biases, they are opinions pieces, and I'm happy to hear the opinions of others and come to my own conclusions. You should too, or in Bitcoin speak, Don't Trust, Verify!
Here's a few articles to get you started. If you find others that interest you or challenge your thinking, please feel free to share them with me.
Twitter
Rather than give you a long list of the Bitcoin Twitter 'famous', the easiest thing for you is to view the accounts I'm following. This is a carefully curated list – I add and delete regularly – at the first sign of shitcoinery.
Twitter is just a tool. You should use it to find more important places. Perhaps it's what led you here, but don't take it too seriously. For now, it's where most Bitcoin conversations start.
YouTube
Bond to Unbind
El Salvador was the first country in the world to make Bitcoin legal tender (it's now been followed by the Central African Republic). If you're interested in learning how that decision happened, how things are going, and, how Salvadorans feel about it, I'd highly recommend watching this documentary.
The Saylor Series
The Saylor Series by Robert Breedlove, is probably the most important piece of content you can watch to understand the 'Why Bitcoin?' question. Michael Saylor is the founder and CEO of MicroStrategy – the first publicly listed company to put themselves on the Bitcoin Standard. From first principles, he explains why it's no longer a choice but a necessity.
Swan Signal
From the team behind the creators of Swan Bitcoin and Give Bitcoin, comes Swan Signal. A weekly discussion between prominent Bitcoiners – also available as a podcast – but sometimes it's nice to see the whites of their eyes, to judge for yourself what is true.
BTC Sessions
The BTC Sessions channel combines some light-hearted takes on current news in the Bitcoin ecosystem, with step-by-step walkthrough guides of wallets, apps and hardware you may not fully understand yet.
Ministry of Nodes
Want to go deep? Ketan at Ministry of Nodes is like the lovechild of Yoda and Morpheus. Seriously, if you want to be smarter than you currently are, just start at episode 1 and keep going. In no time, you'll be a cross between Skywalker and Neo.
This Machine Greens
You've probably heard that Bitcoin is bad for the environment. This Machine Greens, is a documentary by Jamie King and Enrique Posner that explores Bitcoin's complex and nuanced relationship with energy.
Simply Bitcoin
Daily show, available on YouTube or as a podcast, where @BITVOLT7 and @Coinicarus keep us updated on all things Bitcoin.
History
WTF Happened in 1971? This is the question posed by Richard James in Hard Money. In just over half an hour, you'll get a high level understanding of why President Nixon removing the gold standard was the beginning of the end of fiat currencies.
For a deeper understanding, do some research into the Bretton Woods system of monetary management established in 1944.
I'd also recommend watching The Hidden Secrets of Money series by Mike Maloney. While gold is the original hard money, Bitcoin has additional properties that make it a better store of value. That doesn't mean that we have nothing to learn from gold, or that it is going away. What we are witnessing today is the birth of the Bitcoin Standard.
Newsletters
Last but not least, if you're sitting in an office and trying to look busy, you could subscribe to one of these newsletters. That way you could not only look like a grafter, but you could sound more intelligent when you speak 😉
That should keep you going for a while 😉