How to Earn Bitcoin
The risk free way of owning Bitcoin, is to Earn it.
As you learn about Bitcoin, you will start to understand that it is first and foremost a savings technology. A place where – once you understand how to properly secure it – you are comfortable saving a significant percentage of your wealth.
However, you will not feel this when you first get started. You will be sceptical and wary. This is a good thing, Bitcoin can be volatile, and the value of a Bitcoin can change dramatically in a day.
---
Method 1 – Listen to Podcasts
Do you listen to podcasts? Yeah, me too. Lots!
Did you know that you can now earn Bitcoin (Satoshis) as you listen?
Fountain Podcasts is a podcasting 2.0 app that shares the Bitcoin they make with both the podcasters and their listeners. You literally stream Sats into your wallet as you listen.
Support your favourite podcast, support Bitcoin and most importantly support yourself. Start streaming Sats to your wallet today!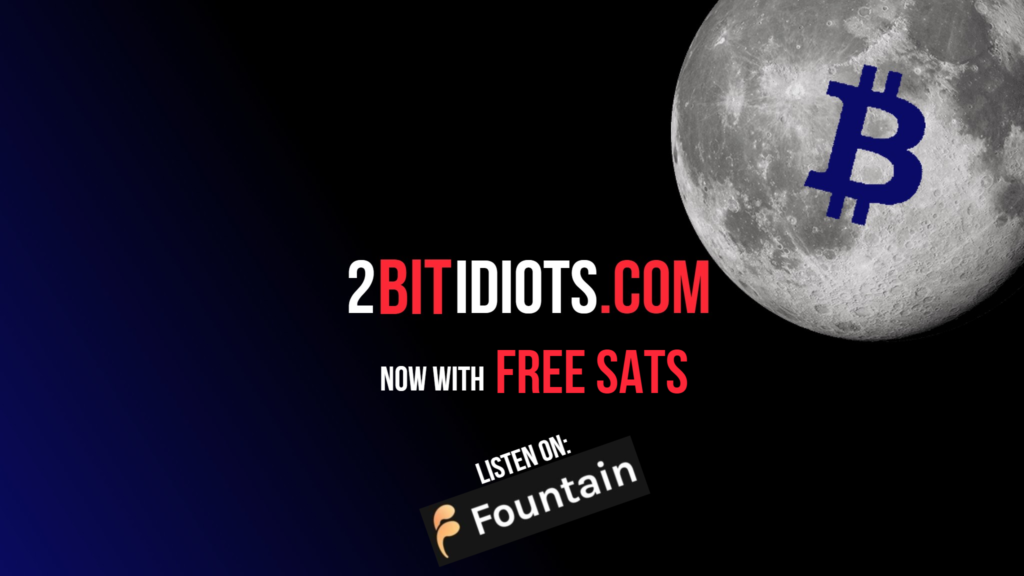 Method 2 – Bitcoin Back
Do you shop? Of course you do! Did you know that you could be receiving cashback – or more accurately Bitcoin back – just by using a simple service like Fold or Lolli.
These services offer up to 18% (Fold) and 27% (Lolli) Bitcoin back for shopping with some of the biggest brands in the world like Amazon.com, Burger King, Gap, Nintendo, Uber, Groupon and Adidas to name just a few.
Basically, you earn Bitcoin, just for doing something you'd already be doing. Who doesn't like free money!
They work slightly differently to each other.
Fold (USA)
Fold works in-store, online and in-app. Using Amazon.com as an example. You purchase a gift card for Amazon.com via the Fold App. You can either use your credit or debit card to do this, or use the Lightning network to get more Bitcoin back. Rewards are immediately deposited to your account so you can spend them, save them or withdraw them to your personal wallet.
Sign up to Fold to receive 5000 free Satoshis.
Want even more? They also offer a debit card (in partnership with Visa) which allows you to earn Bitcoin back on every single purchase you make! Every new customer receives a $25 welcome gift.
Lolli (USA)
Lolli works online or via a browser extension. Either log in to the Lolli website, and click the shop link to receive your rewards or install the browser extension and it will automatically tell you when there is a Bitcoin back offer when you are shopping with one of their partners.
First the Good News
If you currently use a credit or debit card with a rewards programme to make your purchases, you can receive both rewards!
Now the Catch
Both Fold and Lolli are currently only available in the USA. You can however download the app (Fold) or the browser extension (Lolli) in order to refer friends. Lolli offer $10 in Bitcoin when they shop; and, Fold give 20,000 free Satoshis to new users and allow you to Spin the Wheel once a day for a chance to win up to 1 million. If you spin the wheel every day, you are guaranteed 250 Satoshis for what they call a streak!
Satsback (EU)
Satsback.com lets you to earn Sats (fractions of a Bitcoin) every time you shop online at one of their connected stores. The store gives them a commission for referring a customer (you), and Satsback give a percentage of this commission to you. It's free to use and you can either click on the shop link via the Satsback website, or install a browser extension (Chrome or Firefox) that alerts you when you can receive Sats rewards when shopping online.
You can also withdraw your rewards to your own wallet via Lightning, so you don't have to trust Satsback to hold your Bitcoin. Be your own bank!
Method 3 – Work for Bitcoin
A new Twitter account @BitcoinerJobs arrived on the scene in February 2021 alongside the website bitcoinerjobs.co
They hit the ground running and quickly became the go to location for the likes of Swan Bitcoin, CoinCorner, Lightning Labs, Strike, Unchained Capital, River Financial and many more.
As you'd expect, the majority of the jobs are in the Engineering discipline, but it's great to see HR, Sales, Customer Service and Finance jobs in there too.
Definitely worth the follow if you want to work for Bitcoin.
---
Method 4 – Games
Are you a gamer? How would you like free Satoshis just for playing games?
Bitcoin Bounce is a great example of a mobile first game offering Satoshis as prizes. Check out the Play section for more information.
Also consider following @THNDRGAMES on Twitter for the latest information on gaming via the Lightning network.
---
Method 5 – Accept Bitcoin
Do you make or resell a product? Do you provide business-to-business services? You could consider being paid in full or part in Bitcoin. You could even offer a discount to your customers if they paid you in Bitcoin.
All you need is a simple and free Bitcoin wallet available from the Apple or Android app stores. You give them a public address and an amount, and hey presto you're now earning Bitcoin.
---
Method 6 – The Sun Exchange
This one is slightly different but they are my favourite business that is part of the circular Bitcoin economy.
The Sun Exchange is a company that crowd-funds solar panel installations (on schools, vineyards, aged-care homes etc) in South Africa. Contributing to the funding of a project (from as little as $5) entitles you to 20 years of income from the solar installation, with an IRR of more than 11%!
What's more, you can be paid – if you wish – in Bitcoin. So basically, you're streaming Bitcoin to your wallet by monetising sunshine. Help the planet, help yourself!
Don't believe me, let Founder and CEO Abe Cambridge tell you the whole story.